I recently came across this article extolling the nutritional value of watercress.  I admit I knew very little about this dainty leafy green and often overlooked it at the grocery store.  It turns out watercress is an excellent source of calcium and Vitamins A, C, and K, among other things.  I set about creating a recipe that incorporates this wonderful vegetable.  Watercress and sweet pea pesto is what I came up with.  Here's the recipe:
2 cups fresh watercress, tough stems removed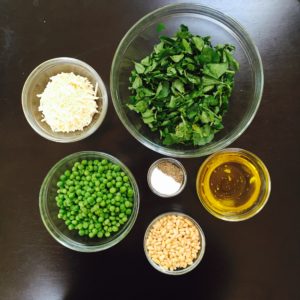 1 cup frozen sweet peas, thawed
1/2 cup pine nuts
1/2 cup grated parmesan cheese
1/2 cup olive oil
2 tsp salt
1/2 tsp pepper
Combine all ingredients but the olive oil in a food processor.  Slowly add the oil after all other ingredients are incorporated.  Toss with warm rotini or penne and any remaining sweet peas.  You may want to save a bit of the boiled pasta water if the mixture needs to be thinned out.  This was a HUGE hit with my picky toddler.  He even asked for seconds!  Enjoy!