Welcome to Katrine in the Kitchen!  I'm Katrine and this is my attempt at documenting our crazy, messy, wonderful life with two boys under 2.  I love to cook and create in the kitchen and am lucky enough to be able to stay home full-time caring for and feeding my family.  Here we are-me, my husband Steve, and our two boys Griffin & Parker.  (photo cred:Stephanie Cargan Photography)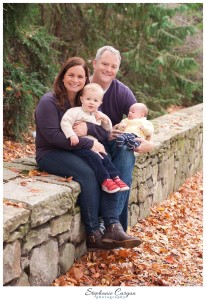 I thought it only fitting that my very first post really capture a perfect morning for me.  My sons and I are up and eating by 7 each day. I'm a morning person and feel very inspired to create yummy meals for my toddler and I first thing.  My favorite is an English muffin with smoked salmon and scrambled eggs with chives.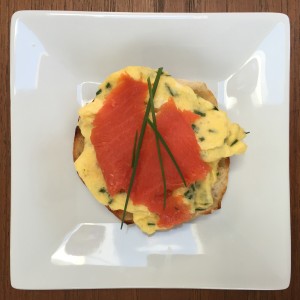 Growing up we had a big patch of chives in our yard.  I remember feeling so lucky when my dad would hand me the scissors to go cut some for our eggs on a Sunday morning after church.   Now that I have a home, yard, and family of my own, those chives are there to remind me of those sweet moments.  And the smoked salmon is a nod to my mom-she's from Norway and always served smoked salmon as an appetizer when she had a formal dinner party.
Now, before you think our mornings are this neat and organized, let's be real for a second.  There is spilled milk, interruptions to nurse my 6-month-old, spit up on my shoulder, tripping over Griffin's ride-on bee, you get the picture.  It's also the Red Sox home opener this afternoon, but my child insisted on wearing his Patriots sweatshirt.  At least he's close! I hope you'll continue to check back from time to time to see what we're up to and what's cooking in my kitchen!