This is an easy marinated pork dish that comes together in a flash.  This meat comes out so tender that it was mistaken for filet mignon at a dinner party I held last fall!  First, gather the ingredients you'll need.
Ingredients:
One plain pork tenderloin, generally 1-1 1/2 lbs
2 tbsp olive oil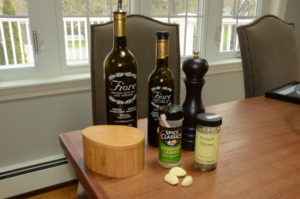 1 tbsp balsamic vinegar
3 cloves garlic, crushed
1 tsp thyme
1 tsp rosemary
1 tsp salt
1/2 tsp black pepper
Directions:
Place all ingredients in a large Ziploc bag and mix thoroughly.  Allow the meat to marinate for at least an hour, longer is better.  Sometimes I even marinate it overnight in the fridge if I think of it ahead of time.  If rosemary or thyme aren't your thing, feel free to use other herbs or spices.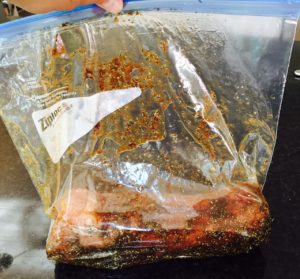 Using tongs, place the tenderloin on a cookie sheet lined with parchment paper.  Discard the leftover marinade.  Bake at 400 degrees for 20-25 minutes or until a meat thermometer reaches 140 degrees in the thickest part of the tenderloin.  After removing from the oven, allow the meat to rest for 10 minutes so that the juices evenly distribute.  Slice and serve with your favorite sides!