It's Election Day! I, for one, will be thrilled when this election is over. I'm so tired of the nastiness and am hopeful that we can come together as a nation tomorrow. That may be easier said than done, so in the meantime, I'm going to be practicing patience and kindness. I hope you will do the same. No matter your beliefs, please let your voice be heard and VOTE!
Ahhh….soup season. I LOVE soup season. One of my favorite things is a big pot of homemade soup, napping children, and watching the Patriots game on a Sunday afternoon. I get giddy thinking about it as summer comes to an end. This soup  is a pretty basic chicken and vegetable soup I make often. In an attempt to decrease the amount of processed foods we eat, I have substituted white beans for what I typically use-orzo or noodles. Honestly, I didn't miss them at all! If anything, I found that the white beans add a meatiness that made the dish taste heartier. Win-win! Here's how I made it…
Ingredients
2 large carrots, diced
3 celery stalks, diced
2 leaks, rinsed well and sliced into half moons
1 tbsp. olive oil
1 tbsp. salt
1 tsp. pepper
1 tbsp. Herbs d'Provence (or any mix of herbs you like-thyme, rosemary, etc.)
1 cup white wine (easily substituted by stock if you don't want to use wine)
1 can white beans
2 cups beet greens (any leafy green will work)
2 cups diced chicken (I use the meat from one rotisserie chicken)
8 cups chicken stock
Directions:
Add the olive oil, leeks, carrots, and celery to a large stock pot and saute' on medium heat until they start to cook down, about 8-10 minutes.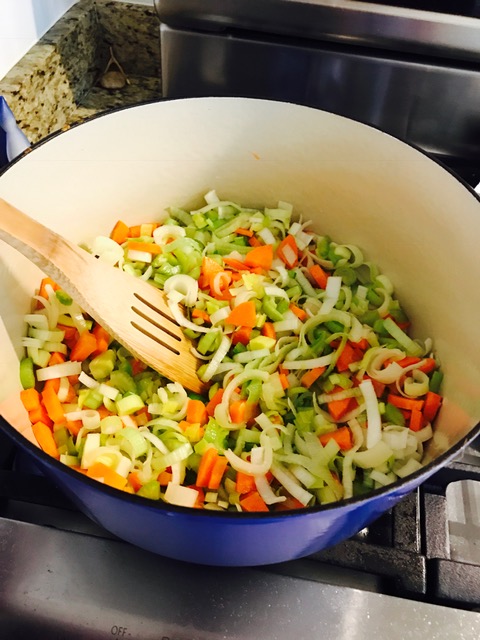 Once the veggies start to cook down, add the Herb's d'Provence, the salt, and the pepper. Stir well.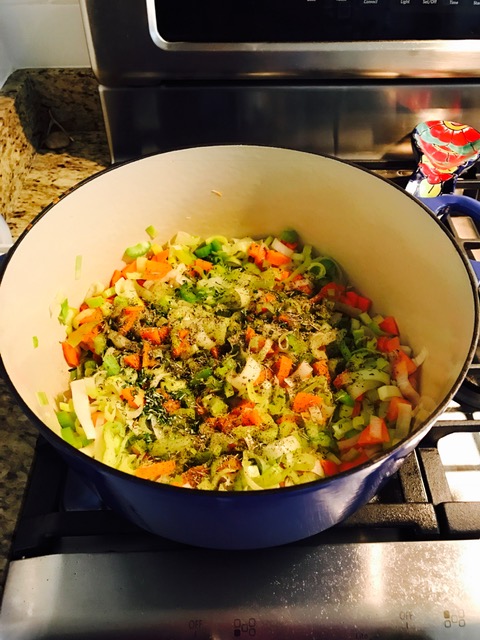 While the veggies cook, drain and rinse the can of white beans and rinse and cut up the greens. I used beet greens because I had them on hand, but kale, spinach, or collard greens would work well also.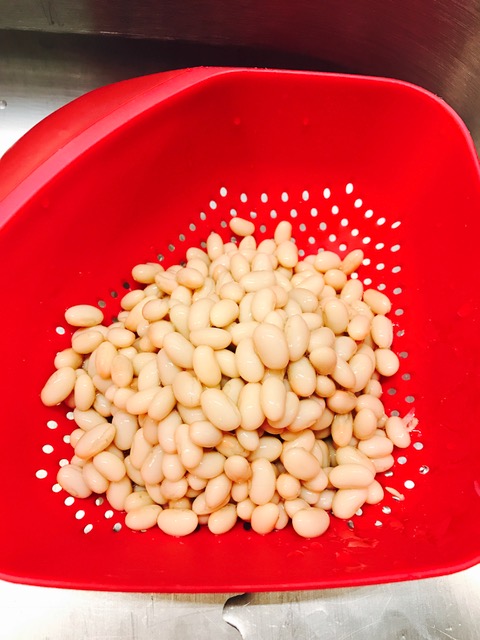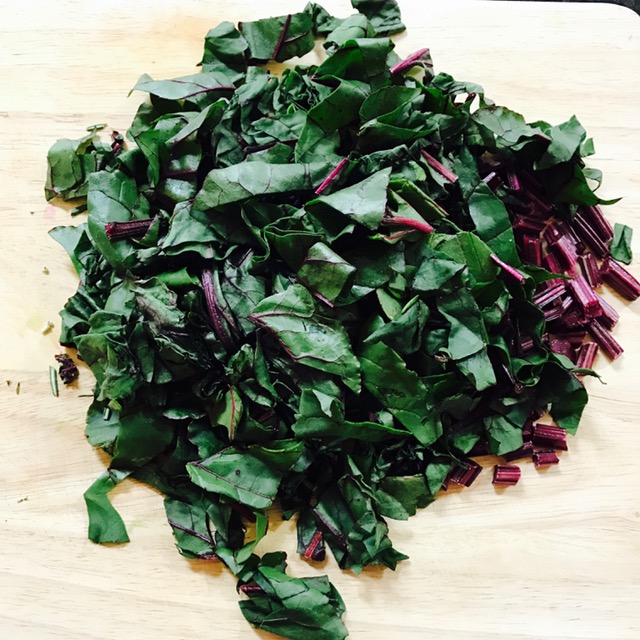 Add the chicken stock to a pot and simmer.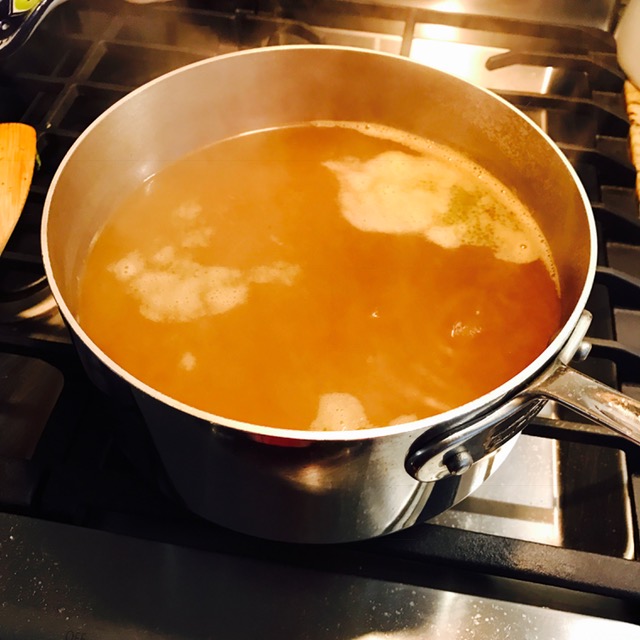 Once the veggies have just started to brown, add the white wine and scrape the yummy bits off the bottom of the pan.  Then add the chicken stock and chicken to the pot.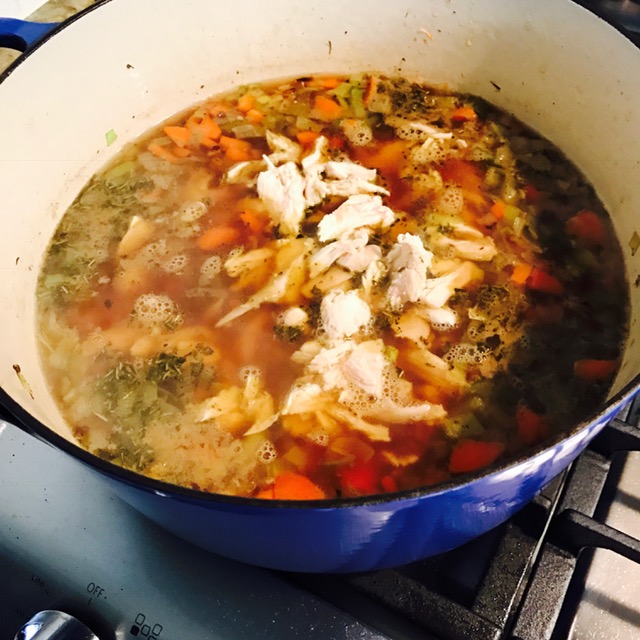 Add the beans and beet greens and stir well.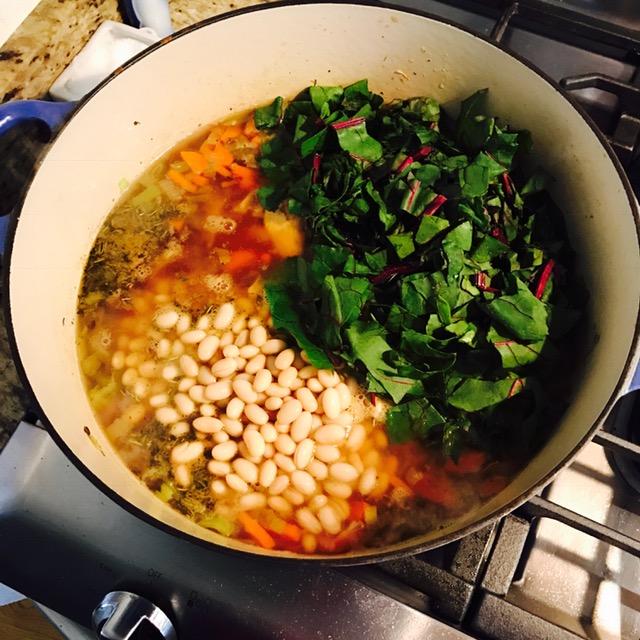 Bring the soup to a boil and then cover and simmer until serving.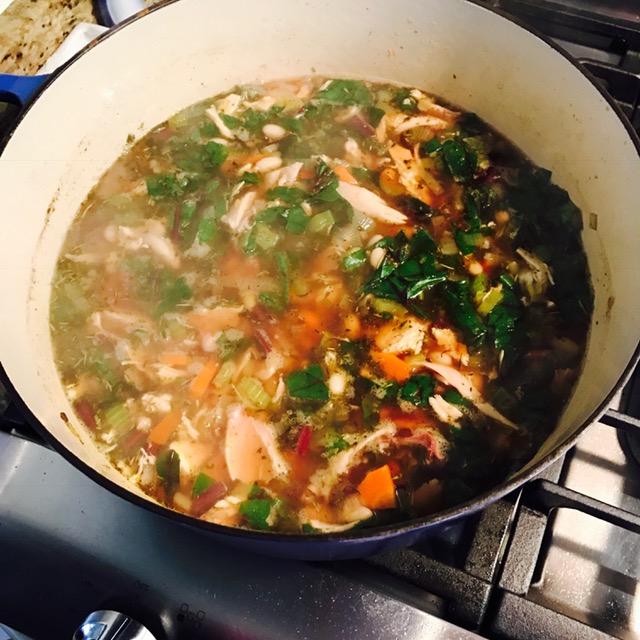 Enjoy!