Today's recipe comes from Julianne, the daughter of Steve's cousin Mike and his wife Angela.  Angela posted a picture of Julianne on her Instagram page last week with a gorgeous bowl of food and I just had to have the recipe. It comes from the Williams-Sonoma Cookbook for Kids. I'm a big fan of  cooking with kids and hope it pays off in a few years when they start cooking for me!  Here we go!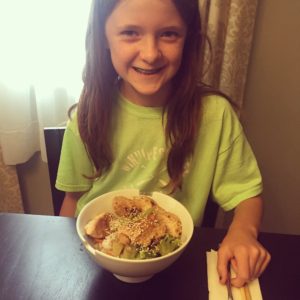 Ingredients:
2 cups long grain rice, cooked
1 large boneless skinless chicken breast
2 tsp olive oil
4 cups broccoli florets
1 bunch of asparagus, cut into 1-inch pieces
2 large carrots, sliced
2 tbsp toasted sesame seeds
salt and pepper
Teriyaki Sauce Ingredients:
1/2 cup soy sauce
1/4 cup water
2 tbsp sweet rice wine
1 tbsp + 2 tsp brown sugar
1/4 cup sugar
1 1/2 tsp. garlic, minced
Directions: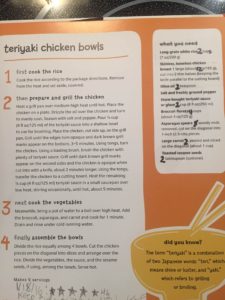 Thanks to Julianne for sharing this recipe, it looks spectacular!